Wondering what to treat you or your loved ones to for Christmas? In lives already stuffed full of stuff, maybe there is a better gift you can give, such as transforming their smile by replacing ugly amalgam fillings with white ones.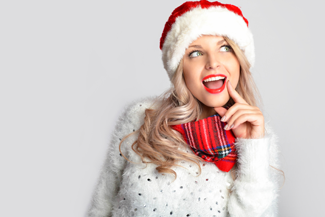 What are fillings made of?
Amalgam is a mixture of silver tin and mercury. Mercury makes the filling material pliable. Although the British Dental Association has declared amalgam fillings to be safe, there's no getting away from the fact that they look pretty awful.
White fillings, on the other hand, are made of a mixture of plastic and glass. Once they are in place, you'd have to stare pretty hard to spot them.
White fillings are strong
White fillings do not require the removal of as much healthy tooth material when you have a new cavity filled. The actual white composite resin is also much stronger these days too. So, with white fillings, you get strong teeth.
Less chance of more decay
White filings also bond with the teeth. They are put in in layers. Each one is cured hard and bonded seamlessly to your tooth with a UV lamp before the next layer goes in. Amalgam fillings are only packed in tight. Bacteria can still get in around the edges and cause decay under the filling. Not so with white fillings.
Filled teeth with all the right curves
Natural back teeth have grooves and ridges on their surfaces. These are cutting edges designed to make it easier to turn food into a paste that we can swallow. We can recreate these chewing surfaces by sculpting white fillings once we have put them in. We can't do this with amalgam, which lies flat within your tooth.
Replacing amalgam fillings
At Wimbledon Dental Care in Wimbledon, we can replace amalgam fillings with white fillings. When we do this, we are very careful to make sure that all the amalgam is safely removed from your mouth.
Bit by bit or all at once
We can do one filling at a time, or you can have the whole lot done. Why not suggest this as an alternative Christmas present and give your loved one their beautiful smile back?