Having cosmetic work performed on your teeth is fairly commonplace and a lot of patients have walked through our practice doors looking for a little dental touch-up. We have a number of treatments available for those looking to give their smile a makeover, so with that in mind here are some of your options for cosmetic dentistry in Wimbledon.
Invisalign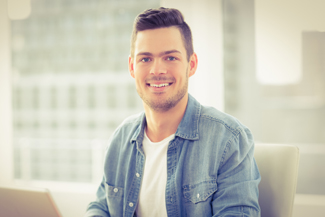 First up on our list are Invisalign treatments.
For those that are unfamiliar with this type of cosmetic dentistry in Wimbledon, they are used to realign any crooked teeth you may have, that are either causing issues with self-confidence or causing other oral health problems. They work by gently realigning your teeth by placing a small, gentle and directed amount of pressure on them to slowly turn them into a straighter position within your gum line. The braces are made from a see-through plastic material which renders them almost invisible and they can be removed at will.
Teeth whitening
Another option for cosmetic work comes in the form of our whitening therapy that we can perform at the practice, or we can provide you with a custom made kit to use at home.
The goal of this treatment is to slowly reduce any staining or discolouration that has built up on your teeth over time. Using a dental bleaching gel, or powder depending on the procedure, we are able to restore your teeth's natural shade to give you a bright and healthy looking smile. At Wimbledon Dental Care our expert team of trained professionals will help restore those less than brilliant teeth to give you a shining confident smile you will want to show off.
Veneers
If there are any chips, cracks or gaps in your teeth that may be giving you grief, then we may recommend you try veneers. These small porcelain chips are shaped and moulded by our team to cover up cracks and gaps in your teeth to give you a natural looking smile.
Dental implants
Almost like having your own teeth back, implants are prosthetic teeth that are inserted using an artificial tooth root beneath your gum line and into the bone of your jaw. They are made from a porcelain material that allows them to be sturdy and easy to clean and they are held in place with a sterilised titanium screw that will bond with your jawbone over time as you heal after the procedure.
White fillings
Cavities and decay can happen to any of us. They are mainly caused by a poor oral health routine or a diet that's high in acidic foods or sugary drinks and once that decay has set in it can absolutely destroy a tooth. To remedy this type of situation our team would clean out an infected tooth before sealing it off with a sturdy white filling that blends right in with the other teeth.
These are just a handful of treatment options that we have available at the practice to help you give that smile a makeover. If you would like to learn about our other procedures and how we can give you a strong and confident smile you will love to show off, please contact our practice.