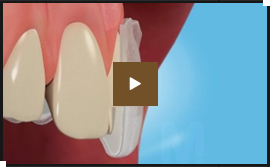 When people are asked what they would like to change about their appearance, most say their teeth. The good news is that one of the most dramatically effectivecosmetic dental treatments is also one of the quickest and most comfortable – teeth whitening.
Wimbledon Dental Care uses leading whitening brand Zoom, which in our years of experience has been 100% effective in achieving the desired bright shades our patients want. Zoom is also extremely safe and gentle, causing no discomfort.So if you would like a dazzling smile for your weddingday, an important job interview or a special holiday, come and see us.
Often, tooth discoloration is a serious problem that shatters one's self-confidence. The discoloration may just be surface stains caused by the likes of coffee, red wine or smoking, or it may be inside the tooth, the result of natural mineralisation, diseases like fluorosis, or a side-effect of the antibiotic Tetracycline. Whatever is staining in your teeth, Wimbledon Dental Care can almost certainly solve the problem with a simple whitening procedure and perhaps change your life in the process.
Whitening products work on the surface and inside the teeth. The treatment removes surface stains while also oxidising the tooth enamel, making it many shades whiter.
You have the option of doing the entire whitening treatment at home but nearly all of our patients prefer us to do it in one session at the surgery, with a brief top-up immediately afterwards at home.
Here's how the treatment works:
You come in for a consultation, at which we examine your smile and discuss the treatment options, including power whitening and at-home whitening. If whitening is the agreed solution, we take an impression of your teeth, from which a tray iscustom-made to fit over your teeth.
At your power whitening appointment, as little as three days later, we make sure the tray fits snugly then take some photos of your smile before treatment. We discuss the shade of white that you would like, and prepare your mouth for treatment. The power whitening itself takes about an hour. When we have finished, we instruct you on how to administer the top-up treatment at home.
The top-up treatment is very simple and takes just three days. You inject whitening gel into the tray and place it on your teeth for an hour each day – half an hour in the morning and half an hour at night.
At the final appointment, we check the result and take some final photos so that we can compare them with the originals. You will be amazed at the difference.
How long will my new white look last?
The teeth will say bright and white for two years on average but longevity depends on each individual, so if your lifestyle involves foods and drinks known to stain the teeth, or if you smoke, the result will not last as long. In any case, to maintain maximum brightness we recommend you use a take-home top-up kit every six months, or come in to the surgery for a Zoom boost after about 18 months.
Will I feel any pain?
In our experience, Zoom whitening is a comfortable treatment. We take great care to prevent any pain from the very start.
Contact us and get the white teeth you deserve
If you think teeth whitening will lift your confidence or add to your enjoyment of an upcoming event, come and see us now.Call us on 020 8946 6546 to make an appointment, or send an email via this website and we will reply quickly.
Wimbledon Dental Care is above Caffé Nero on The Broadway, in the heart of Wimbledon town centre. We're just metres from Centre Court and Wimbledon station and there are numerous public car parks nearby.