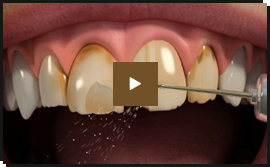 Unhappy with your smile? Often the best way to fix misaligned or worn front teeth, or bad staining, is also the most dramatic – dental veneers.
Because the transformation is so quick, a smile makeover using veneers is the cosmetic treatment thatoften brings the biggest smile at Wimbledon Dental Care.
When your teeth are irreversibly stained, crooked or worn, or you have irregular gaps, your confidence can be seriously affected. Maybe you want to get this sorted in time for a big event like a wedding or a special meeting. If your treatment is date sensitive, make sure you come and see us early so that we have the time to achieve the results you want.
Veneers are strong, wafer-thin porcelain shells custom-made to fit the surface of your teeth. This is a long-lasting treatment that looks fantastic and conserves as much natural tooth as possible. Sometimes a single veneer is placed to hide a dark tooth or to repair a broken front toothbut with a smile makeover we place multiple veneers – usually between 6 and 10. We also repair and replace worn-out veneers.
Assessment: Every face is different and there are many types of smile, so your experience starts with a consultation where we find out what you don't like about your teeth, what type of smile is best for you and what is the most suitable treatment. If it is agreed that you will have veneers, we then take an impression of your teeth and send this to a highly skilled dental technician who creates a model showing how your teeth will look at the end of the treatment.
Placement: Assuming you are happy with the model and agree to continue, the technician will make a set of porcelain veneers. At the placement appointment, we trim a thin layer of enamel from the surface and biting edges of the teeth to make room for the veneers. We attach the veneers using a powerful multi-layer bonding system and then make fine adjustments to the veneers if necessary. We then give them a final polish, check your bite and reveal your new smile.
The new you: You are now the owner of your own celebrity smile – straight, smooth and in the white shade of your choice. All that is needed is for you to come in one more time so that we can check that everything is fine.
Emergency repairs: Sometimes we damage or break a front tooth accidentally and we need it fixed quickly. There are two options for emergency repairs: temporary repairs followed by the fitting of a porcelain veneer; or a single-appointment solution using a veneer made from dental composite. Both solutions achieve excellent, long-lasting results, so if you have an emergency, call us and we will take care of you.
Veneers or orthodontics? Veneers cannot mask all cases of severe crowding and misalignment, and nor can orthodontics solve staining problems, so the two treatments are not always interchangeable. However, when both options are available, you may prefer veneers if you do not have the time or inclination for orthodontic treatment. But if neither of those factors is an issue, we would normally recommend orthodontics because with this treatment we do not remove precious enamel from your natural teeth.
What comes after veneers? If you want a full smile makeover, this may require more than just veneers. It could still involve crowns and an orthodontic procedure, and we can also fix gummy smiles.
What is a crown? If you have a broken tooth or one that has severe decay, it is likely to need a crown. We also make crowns as part of a dental bridge, to fill the gap made by a missing tooth. Crowns are made from the same material as veneers and, like veneers, are long lasting and look incredibly natural.
See us and smile
Whether you need one veneer or a complete smile makeover, we have the cosmetic dental expertise to transform your smile. Call us on 020 8946 6546 to make an appointment, or send an email via this website and we will reply quickly.
Wimbledon Dental Care is above Caffé Nero on The Broadway, in the heart of Wimbledon town centre. We're just metres from Centre Court and Wimbledon station and there are numerous public car parks nearby.