Meet the Team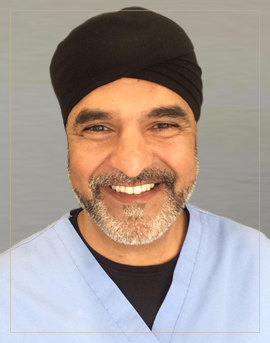 Dr Harjinder S Matharu
Dental Surgeon
DGDP (UK) 1995, BDS Lond 1988
GDC No. 64012
Qualified at Guy's Hospital Dental School. Harj has over 30 years experience and has helped to improve the smiles of thousands of patients.
A dynamic visionary practitioner, Harj is a regular at the World Aesthetics Congress and has trained with some of the leading figures in cosmetic dentistry, including New York's Dr Larry Rosenthal ('The Dentist's Dentist', with clients such as Donald Trump, Matt Dillon and Normandie Keith) and Bill Dorfman ('Dentist to the stars' and inventor of 'Zoom! Whitening System').
As well as cosmetic dentistry, his other interests include Implants, Sedation (Sleep) dentistry and rehabilitation of severely broken down dentitions. His hobbies include tennis, cycling, fund raising events for charities and spending time with his four, yes four children!